The following EQUIPMENT is provided already assembled with the tank as standard:
Protective cover for accessories in self-extinguishing PE with lockable cover.
1st and 2nd stage reduction kit complete with isolation valve and shut-off valve.
Cathodic protection with magnesium anodes of suitable weight.
Convenient meter for obtaining readings with assembled cables for the operation and monitoring of the cathodic protection.
Concrete base with anti-float ballast function for underground tanks.
These bases are implemented on site for 2750 and 5000-litre tanks with anchoring clamps and tension belts provided.
Cover restoration kit.
PROTECTION UNIT
Service and safety accessories are protected with a high-density polyethylene lockable unit which complies with standard UNI EN 1555 (ex UNI ISO 4437).
The cover is secured to the tank using stainless steel bolts and must guarantee full outer protection. The cover of the unit must ensure resistance to static loads greater than 1000 kg/m2.
A mechanical pressure-release valve designed according to intrinsic safety standards is fitted to the top of the cover. The operation of this valve must also be guaranteed in the event of accidental loads on the cover of the unit.
An insulating sleeve is fitted to the side of the unit and contains the plant supply pipe. This sleeve must be chemically compatible with the LPG, resist a pressure of at least 1.5 times the operating pressure, and guarantee operational temperature limits, electrical resistance and dielectric qualities.
PRESSURE REDUCTION KIT
All 1st and 2nd stage pressure reduction kits defined as an assembly comply with the safety requirements outlined in appendix 1 of PED 97/23/EC, implemented by Legislative Decree no. 93 of February 2005.
The technical kit requirements are among those set out in existing legislation. Assemblies with characteristics lower than those set out in sections 1.3 and 2 of the PED are not required to have CE marking but they must have a declaration of conformity.
GENERAL CHARACTERISTICS
Reduction units for LPG plants for domestic use and similar that are supplied by tanks underground or above ground with maximum capacity of 5m3.
Assembly containing:
– Ball valve Ø ½" in brass M/F;
– 1st and 2nd stage regulator;
– Copper pipe for gas plants (Cu 99.9%);
– Transition joint.
OPERATING CONDITIONS
High pressure regulator with set calibration, gauge and safety valve
Input pressure = 16 bar max
Output pressure = 1.5 bar
Flow rate = 40 kg/h
Operating temperature: -20 °C +50 °C
Low pressure regulator with variable calibration and safety valve incorporated
Input pressure = from 1.5 to 1.95 bar
Output pressure = from 30 to 50 bar
Flow rate = 10-12 kg/h
Operating temperature: -20 °C +50 °C
CATHODIC PROTECTION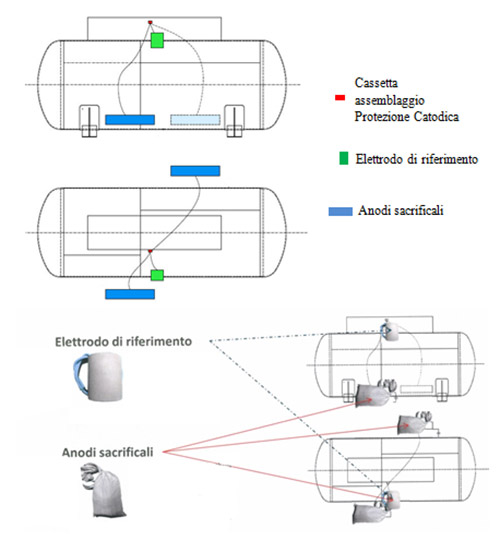 The cathodic protection of tanks using magnesium sacrificial anodes is an effective method that is easy to apply, even for non-specialist personnel. It is a non-polluting method that does not require maintenance or the consumption of energy.
To keep the cathodic protection in good condition the protective current and potential must be checked regularly
A steel underground tank is usually protected when its potential, measured with respect to a Cu/CuSO4 electrode, is below -0.85 volt of potential (UNI 9782 and subsequent amendments and supplements – Pourbaix diagram).
A low protection current indicates optimum operation of the cathodic protection system, with the epoxy coating in perfect condition, therefore to protect the tank from corrosion a small current is sufficient, with resulting reduced anode consumption.
Conversely a high protection current indicates a situation with the epoxy coating which is not ideal. It would therefore be necessary to supply a larger current to offset the reduced efficiency of the coating, with resulting increased anode consumption.